Skip to Content
Travel Information
Anguilla Entry Requirements
Pre-Arrival Requirements: Until Further Notice
All visitors 18 years and older must be fully vaccinated to be allowed entry into Anguilla; pregnant women are exempt from this requirement.  The definition of "fully vaccinated" is three (3) weeks or twenty-one (21) days after the second dose of vaccine.  Mixed vaccines are accepted for most vaccine types.
All travelers (regardless of age) must apply for Entry Permission at www.ivisitanguilla.com and submit a pre-travel negative COVID-19 test result taken no less than 2 to 5 days prior to arrival that meets Anguilla's current test timing and test type requirements. Once your pre-travel test is accepted and you are pre-approved for entry, all travelers will pay a US $50 arrival testing fee per person online in advance.
We recommend you start the entry application process right away and before you have your pre-travel test results. You will create a profile and password which will allow you to log back into your application later to upload/submit your test results. New applications will not be accepted later than Noon EST the day before the day of arrival. For assistance with the travel application portal visitors may email visitanguilla@gov.ai (please allow up to 12 hours for a reply); or call 1-264-584-2710, or 1-264-497-5666 between the hours of 8 AM and 7 PM EST. 
After you apply you will receive an email from the entry portal with further instructions and pre-travel testing requirements which you can show to your testing site to confirm your test meets Anguilla's standards. If you are unsure, we recommend contacting the entry portal to confirm if the test you plan to take is accepted before you take the test.  You can see the latest list of accepted tests at https://escape.ivisitanguilla.com/. The laboratory that processes the pre-arrival test must be accredited. Some test types have shorter allowable windows between test taken date and arrival date than others. Results must specifically indicate that the test was taken by nasal swab. Refer to the Anguilla Tourist Board website for details.
Our Peace-of-Mind Policy 
If you are not approved for entry to Anguilla due to a positive result on an eligible COVID-19 test (one that meets the requirements for Anguilla) taken 2 to 5 days prior to arrival, please email us a copy of your positive test results at least 24 hours prior to your check in date and even though it is past the free cancellation window, we will hold the value of your booking as a credit that you must use within 12 months of your original check out date. Any funds not used by that deadline are forfeited. Does not guarantee same unit or nightly rate as original booking, and subject to availability. Trip Insurance is also recommended. This offer may not be available for bookings made through certain third party channels that have other cancellation policies. Please consult the information provided to you by the channel you used at the time you booked. 
If You are Traveling to Anguilla Through St. Maarten
St. Maarten has announced new booster, vaccination and testing requirements for entry starting January 1, which are different than Anguilla's entry/testing requirements. If you are traveling through St. Maarten, there is a separate application process for St. Maarten available here: https://stmaartenehas.com/application-form/. You can't start your application process to St. Maarten until 3 days before you arrive in St. Maarten. If you are not overnighting in St. Maarten then you will indicate 0 nights in St. Maarten, arriving in St. Maarten from your previous destination and departing St. Maarten for Anguilla the same day you arrive. If you are traveling through St. Maarten after your stay in Anguilla, you will need to apply for entry to St. Mararten again, this time arriving in St. Maarten from Anguilla and departing from St. Maarten for your next destination the same day you arrive (unless you are overnighting in St. Maarten). As an alternative to traveling through St. Maarten, there are direct flights to Anguilla's airport (AXA) from Miami, St. Thomas, St. Barth's, Antigua and Puerto Rico. Private planes of certain sizes are also welcome in Anguilla.
Testing Upon Arrival in Anguilla
Everyone in your party (including children under 18 and pregnant women) will be tested on arrival, receive a wristband and will be required to travel by approved taxi (we can arrange for you) to Tranquility Beach where you will stay in place enjoying your condominium and our beautiful beach while the test is processed by the Ministry of Health (results usually communicated within 12 to 24 hours).
 Enjoy the Beach the Moment You Arrive
Your vacation experience starts at day one. We will greet you at the resort with chilled towels and a complimentary rum punch or soft drink. While waiting for your arrival test results, you will have full use of your condominium and outdoor terrace with private hot tub and contact-free access to our staff, including concierge services, to ensure your comfort. You can also swim and enjoy Meads Bay Beach and our beach chair drink service while waiting for a negative arrival test result, as long as you wear masks walking to and from the beach and socially distance from other guests. We can also stock your kitchen with groceries and other provisions and arrange restaurant delivery, so you can just relax (cost of goods plus small service). 
Once your arrival test result is confirmed negative, there is no additional staying in place required. You will be free to walk to other resorts, have us arrange an optional onsite massage or private chef service, dine out at any restaurant and explore the island without restrictions, including renting a car. 
Guests staying on island for more than 8 days MAY be tested on Day 4 of their visit. If a Day 4 test is required the test will be administered at no additional cost to you onsite and you are NOT required to stay in place while waiting for those results.
If Test Positive at Arrival or During Stay
Should a Guest receive a positive test result or exhibit other signs of the COVID-19 virus, typically the Guest will be retested the following day to rule out a false positive. Subject to test result, the Ministry of Health will determine if Guest should be escalated to a medical facility, otherwise the Guest will isolate in their condominium until cleared by the MOH – typically after 10 symptom-free days, physical exam and negative PCR test. Should Guests be required to extend their stay at the Resort beyond original check out date as a result of receiving consecutive positive test results, Guests will be responsible for paying the published nightly rate + 12% government tax and 10% service charge for all additional nights. If stay in current unit cannot be extended due to another booking, our staff will work with the Guests to move them to another unit at the Resort or alternative accommodations. All units are deep-cleaned and thoroughly disinfected before the next guest arrives. Although no housekeeping services can be provided during the isolation period, all necessary food and beverage, cleaning and medical supplies can be arranged and delivered contactless to the Guest (additional charge). Cleaning supplies, clean linens and trash removal will of course be provided by the Resort. Any violation of any of these stipulations is subject to government fines and/or legal action. Trip insurance that includes trip interruption/delay and medical coverage for COVID-19 related expenses is always recommended. You may be able to purchase through your airline.
Onward Testing Available
If you need an onward test for your next (for example St. Maarten) or final destination (for example the United States), we can arrange (additional fee). Please let us know your travel schedule and requirements before your stay so we can schedule accordingly. Tests can usually be administered onsite at the resort. 

Vacation Starts the Moment You Arrive!
Thanks to our beautiful Meads Bay Beach location and our friendly staff, your vacation experience starts the moment you arrive at Tranquility Beach.
We will greet you with chilled towels and a refreshing rum punch. While waiting for your negative arrival test results (typically returned within 12 to 24 hours) you can swim and relax on Meads Bay Beach, enjoy our beach chairs and beach drink service, including complimentary soft beverages. Or take a rejuvinating soak in your condo's private outdoor hot tub.
Our staff is always available to assist so you can just relax. We can stock your kitchen with all of your favorite food and arrange restaurant delivery. Once your negative result is confirmed, you are free to explore the island as you wish and rent a car.
Keeping Everyone Healthy
Our staff has completed certification training and follows extensive government sanitation and food service protocols.
We provide complimentary disposable masks and gloves, as well as hand sanitizer and sanitizing stations. Please bring your own mask to wear at entry to Anguilla. Until further notice, face coverings must be worn indoors when socially distancing from other groups is not possible, during health screenings and in any situation where it is requested by a vendor or the government. Please check the current government protocols when you arrive as they may change.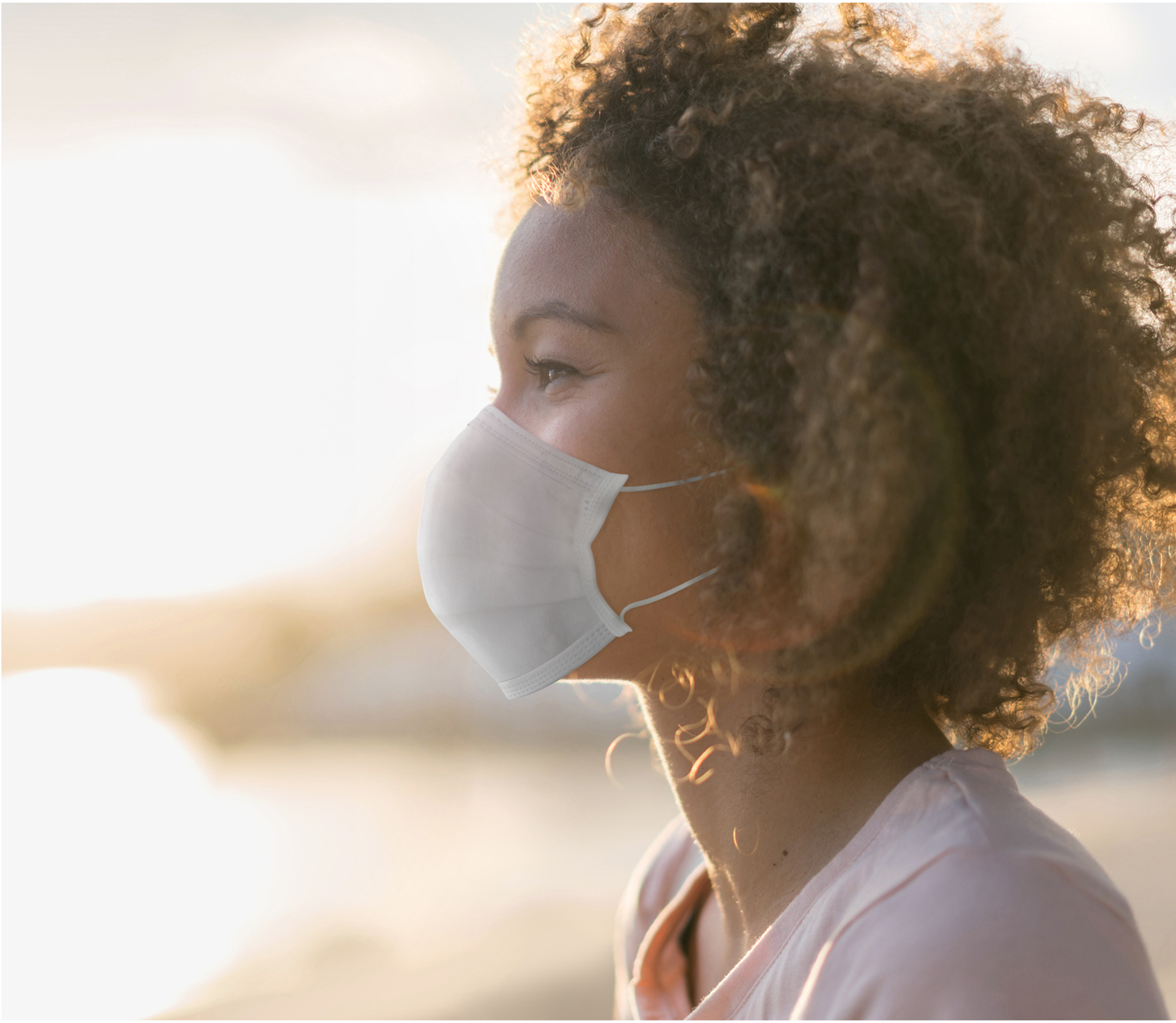 Cheers to a New Year!
Kick off 2022 on the most beautiful beach in the world. Search your preferred dates for winter specials.
Staying a month or longer? Contact us about additional discounts.
Download Helpful Travel Guidelines