Skip to Content
A Pristine Beachfront Oasis for Anguilla Getaways
A brand-new boutique hideaway on Anguilla's most beautiful beach, Tranquility Beach Anguilla Resort on Meads Bay captures the island's luxe-meets-low-key vibe in 15 beachy-chic condominiums on the sand. Perfect for a short getaway, an extended family vacation, or a lifetime of island living, these stylish oceanfront retreats combine privacy and highly personalized service with the resort services you love most. Whether you're imagining dinner on the beach prepared by your private chef, a kitchen and bar stocked with the best staples and spirits, or dinner reservations at a five-star restaurant just a short, toes-in-the-sand stroll down the beach, we offer permission to relax, unwind, and define luxury on your terms at our new Anguilla beach resort. Tranquility Beach is open all year round so you can escape to the beach any time you wish.
what our guests say

Beach is the Best in Anguilla

The staff was excellent. They were very helpful friendly and always went above and beyond to accommodate us. The accommodations had all the amenities we wanted. We never got tired of the ocean view watching beautiful sunsets. The name of the place sums it up perfectly. Tranquility. This beach is the best in Anguilla. There are lots of restaurants within beach walking distance. And you must have Sam's rum punch at Tranquility. It's the best rum punch I have ever had.

- S.M.

what our guests say

On the Best Part of Meads Bay

This property is not only stunning and on the best part of Meads Bay, the staff will take it over the edge for you. This property is SO beautifully maintained, and the staff is exceptionally friendly and will take care of your every need with a smile on their face. We have never felt more taken care of, looked after, and all of our needs were met above and beyond. We were greeted upon arrival with Sam's Signature Rum Punch and cool towels -- which felt amazing after a long day of travel. Then toured our unit, which was sparkling clean and furnished with the newest Serena and Lilly furniture (SO NICE!) and personal hot tub, then walked down to the private beach and soaked in the sun with fresh orange-infused water. The entire team here truly made you feel at home. And the next-door beach restaurants are delicious! You must check out Straw Hat or Blanchards Beach shack. We can't wait to come back to this beautiful property.

- B.W.

what our guests say

Best Stay We Have Ever Had

When visiting Anguilla, look no further than Tranquility Beach! The beachfront condo was everything we imagined. Pictures/videos don't do this beauty justice. Perfect ambience as the decor is modern while still having the touch of the Caribbean. Enjoyed waking up in the mornings to a pristine light blue water and beach before ever lifting my head from my pillow. Steps from the quiet beach. The staff are all amazing and treat you like family instead of tourists. Overall, this is the best stay we have ever had anywhere in the world, including your major top rated resorts.

- M.H.

what our guests say

Best Beach in the Caribbean!

Best beach in the Caribbean! From the moment we arrived the staff was very much ready to be sure we had the best stay possible. The team members were available and offered many suggestions based on our request. The room was amazing and it was a beachfront location which made it even better. The water was very clear in which I belive some of nicest we have seen in the Caribbean and the food was amazing at the local spots. We cannot wait to go back and this time stay for a month or more to really enjoy the island even more.

- A.B.

what our guests say

Would Definitely Return

My stay was wonderful and the staff was great. Everyone was very helpful and accommodating. I would definitely return to stay at the property!

- R.R.

what our guests say

Spectacular Location

The location is spectacular, directly on one of the best beaches in Anguilla. The apartment was very comfortable, beautifully finished and really well thought out, with everything that you might even think that you need. And the staff were wonderful too!

- I.C.

what our guests say

I Loved My Stay

I loved my stay at the condo! I had booked it for my birthday and they gave me a bottle of wine. The right people are placed in the right positions and I enjoyed chatting to them all. They were all attentive and nothing was a bother. They all excelled in delivering fantastic customer service. I had help with my luggage. The dishes were even washed although I had put them in the dishwasher to wash later on. The bed was very comfortable. It was quiet at night. I would recommend staying here, this place is very special and I would come back again.

- S.S.

what our guests say

Nice Addition

Stayed many years on beautiful Meads bay. Tranquility is a very nice addition. Would have no hesitation about staying again at Tranquility or recommending it to others.

- G.S.

what our guests say

Location is Perfect

The location is perfect on Meads Bay beach being right in the middle of the beach and within walking distance from a number of great restaurants for breakfast, lunch and dinner. If you do not want to rent a car you can certainly go to a different restaurant daily on Meads Bay all within walking distance and each of them having delicious cuisine. We will be returning to the lovely Tranquility Beach in the near future for the staff's hospitality, outstanding views, and the perfect accommodations.

- T.W.

what our guests say

We Will be Back Soon

Great accommodations on one of the best beaches in Anguilla! Wonderful staff, beautiful condo with all the amenities-- especially liked the hot tub! Beautiful sunset views were a bonus. We will be back soon!

- J.K.

what our guests say

Drool-worthy

This place was wonderful. The staff are welcoming, kind, informed, and darn good. The condos are well appointed, spotless, and drool-worthy. The beach perfect. Tranquility beach will make you want to extend your stay as soon as you arrive, make you forget your troubles during your stay, and make you plan to come back as soon as you start to pack.

- T.L.

what our guests say

Great Time

We had such a great time. Thank you!

- M.L.

what our guests say

Very Well Run

Very well run and dedicated, good staff.

- G.W.

what our guests say

Will be Back for Sure

The staff treated me like family...from filling my fridge with provisions, booking my dinners out, great beach and attendants, and ensuring I was happy everyday. Thank you to everyone at Tranquility Beach, I will be back for sure.

- M.H.

what our guests say

Simply Wonderful

Tranquility Beach is simply wonderful! From the moment we arrived, we were impressed. Deanna, Jaimée and Sam welcomed us with open arms and took exquisite care of us. The decor is stunning, the beds are dreamy, the landscaping is perfectly done, and the location simply can't be beat. The staff adds to the perfection of this place -- they are the friendliest and most accommodating we've ever encountered (on an island that is known for its kind people). We will be returning again and again. We can't wait to share this special place with our friends and family.

- B.B.

what our guests say

Staff Very Attentive

Staff was very attentive. Room was spacious, clean and well appointed. Location is perfect; views of Meads Bay are stunning.

- D.M.

what our guests say

Will Definitely Return

Tranquility Beach is lovely in every way: The well appointed condos. The amazing views. The fact that it sits directly on Meads Bay- one of the best beaches we have ever visited. The staff and attentive service. The proximity to great restaurants and a large grocery store. We had a magical two months on Tranquility during the pandemic. We will definitely return.

- M.J.

what our guests say

Service Impeccable

Service impeccable; management outstanding, room and views stunning. We look forward to returning.

- L.L.

what our guests say

We Love Them All

"The staff is amazing we love them all and the property is wonderful ❤️"

- L.O.

what our guests say

Outstanding

The entire staff at Tranquility was outstanding! From Sam, Desean, Elvin on the beach to Lisa, Deanna, Jaimée and Stacey in the office. Everything was taken care of. Everyone could not have been nicer and more accommodating!

- A.K.

what our guests say

Beach Was Impeccable

I was amazed at how lovely the condo and service was. The beach was impeccable. Absolutely perfect. Thank you!

- V.L.

what our guests say

Helpful Staff

Very friendly and helpful staff.

- K.F.

what our guests say

Absolute Perfection

From the breathtaking oceanside location to the exceptional staff....this stay was absolute PERFECTION! Our hosts were professional, attentive, exceedingly welcoming, friendly, and responsive throughout our stay. The condo was immaculate, stylish, and well appointed to meet the needs of our small family of three. We loved being steps from the beach (literally) and a short distance away from the best restaurants/eateries on the island. We could not have been happier with our choice. Thank you for creating a memorable stay for our first family trip to the beautiful island of Anguilla!

- J.

what our guests say

Top Notch

We can't say enough about the staff and the condo! Absolutely loved our stay and hope to revisit in the near future. Until then, thank you all for allowing our stay to be top notch! Sam, you make THE BEST Rum Punch drinks!!

- S.&D.

what our guests say

Felt Safe and Welcomed

We loved everything about the experience. From the time we entered the property we felt safe and welcomed. All of our questions were answered in a timely manner. The pastries were delicious. We have recommended Tranquility Beach to everyone we know

- W.S.

what our guests say

Blew Away Our Expectations

Blew away our expectations. Everything was wonderful. Friendly and attentive service and stylish accommodations. We couldn't have been more pleased.

- J.N.

what our guests say

Slice of Heaven

A little slice of heaven on Meads Bay. The condo was impeccably thought out with attention to quality details even down to the toaster. I lay in bed tonight writing this review with my new pillows that arrived today….the same pillows that were part of the most wonderful sleep experience at Tranquility! Staff were so kind and we truly enjoyed our visit with them. So much so that we are returning in June!

- A.J.

what our guests say

Fabulous

Fabulous accommodations!!! Over the top treatment from staff! Would highly recommend!

- S.S.

what our guests say

Suite Was Amazing

We loved our stay at Tranquility Beach! The location on Meads Bay is perfect, the suite was amazing, and the staff was wonderful! We'd highly recommend Tranquility Beach to anyone looking for a great stay on one of the world's best beaches.

- D.S.

what our guests say

Everything Was a Highlight

Honestly, everything was a highlight. The location is amazing. The condo is beautiful. The staff were so friendly and warm. Sam was such a gracious host while we were on the beach. We will be back.

- D.M.

what our guests say

Beautiful

Beautiful accommodations on a beautiful beach. The Staff is wonderful!

- L.H.

what our guests say

Perfect Temperature

The only thing that was a con before we went was the fact that resort had no pool. However, once we were there, the pool we desired was instantly forgotten about, since the water was perfect temperature and each room has its own hot tub.

- G.M.

what our guests say

Run Like a 5-Star Resort

Amazing staff and facilities. Deanna our contact at Tranquility was truly amazing and made our stay so easy. The location is the best on the Island.The staff at the beach in front of our apartment could not be any more helpful and friendly. This place is run like a 5-star resort.

- G.S.

what our guests say

Top Place to Stay

Top Place to Stay on Anguilla -- Mead's Bay is a top beach on the island and Tranquility is a really nice option -- great staff, condos are new, clean and well designed and having a fully equipped kitchen is important. We always rent a car, but you could easily not have a car and walk to several excellent places for food and drinks.

- E.

what our guests say

First Class

The clean contemporary architecture and beautiful design complemented by the comfortable, luxe interiors truly distinguish this beachfront property as first class.

- Hon. Prime Minister of The Commonwealth of Dominica, Dr. Roosevelt Skerrit.

what our guests say

Excellent

The condo unit was excellent and the staff were extremely friendly and helpful.

- M.C.

what our guests say

Incredible Value

We loved our stay at Tranquility! My family was in the 3 bedroom beachfront unit and it was a dream! Beautiful furnishings -- everything new, modern and clean. The kitchen had everything you would need. And the view was stunning. Just a few steps away from great restaurants and beach bars. The staff could not have been nicer. This is an amazing option if you don't want to be confined to a hotel room in a crowded resort. Incredible value, do not hesitate to book it!

-

what our guests say

We Have Fallen In Love

We had the most AMAZING time meeting all of the staff and staying at Tranquility. We cannot say enough about our stay. The property was beautiful, spotlessly clean, quiet and unspoiled. I can't say enough about how much we loved the staff. What a kind and caring team! We also really liked the local cat. Absolutely adorable and lovable. There is nothing to improve on because it was perfect in every way. We have fallen in love with Tranquility and can't wait to come back. We wish you well until we meet again. Hi to Sam and Abiel."

- K.C.

what our guests say

Insane Great

They are awesome. They are the best. They are just the most friendly and heart warming team I ever saw. This stay was way to short and just insane great. The location is a dream for a Caribbean first timer. You arrive, see smiles, get a rum punch and experience the most awesome sunset ever. The rooms, let's say apartments, are beautiful and nothing is missing. Everything is perfect. They help you with everything. How cool is it to have a WhatsApp chat group with the staff?!? They just rock and are the best. We were so sad to just stay three nights with them. They are heart warming. Give great help and recommend the best things and food places. Did I mention every room has its private whirlpool. If you go to Anguilla, this is the place.

- S.S.

what our guests say

Unmatched View

The views of Meads Bay, which in my completely biased opinion is one of the best beaches in the world, was unmatched. Check in was a breeze, Deanna was the ultimate host and ensured we had everything. The furnishings were plush and well appointed, modern clean lines, nothing loud and distracting from the view. We were able to enjoy Meads Bay with loungers and umbrellas provided by Tranquility Beach. I cannot recommend Tranquility Beach enough.

- G.H.

what our guests say

Booked Another Stay

It was fabulous. Staff were lovely and helped with all our needs. This property is a great location, clean and furnished well. Loved having a beach attendant. We booked another stay before we left in April.

- B.B.

what our guests say

Amazing Vacation

We had the most amazing vacation. Beautiful location, modern units, and staff A+. They were very knowledgeable and helped us get through the Covid requirements for entry. We will be visiting again!!

-

what our guests say

Being Close to the Beach Was Perfect

This property was absolutely stunning and the hot tub was the cherry on top! Being so close to the beach was perfect and within walking distance of restaurants. A short drive away from sandy ground which was also a great location for restaurant and bars.

- E.J.

what our guests say

Perfect

It was a perfect experience. I loved Deanna!

- M.H.

what our guests say

High End

I will start by saying we haven't stayed here...yet anyway. It is on our list to try and were hoping to get a look at them first. While walking along Mead's Bay we were fortunate enough to strike up a conversation with Sam on the beach. This is a high end, very new, quite lovely property that we wouldn't hesitate to stay at in the future. We particularly liked the second floor unit and thought that even though it's set back, it still has a very good view of Mead's Bay. We thought the pricing to be on par with what is offered on the island for newer accommodations. Nice touch padding on the beach chairs and beach attendant too all on beautiful Mead's Bay. We will be looking into it next trip!

- D.

what our guests say

Rooms Beatiful & Large

Gorgeous condo. Impeccable service. Gorgeous beach. I adored my stay at Tranquility Beach. The outdoor private hot tub was an amazing way to unwind every evening. The rooms were beautiful and large. One of the nicest places I've stayed. I could live there year round! It has everything you need and more. The beach was impeccable. One of the prettiest beaches I've ever seen. I loved that I could walk to restaurants and boat rentals. It was so quiet and peaceful. The staff could not have been nicer. Perfect stay that exceeded my expectations. A gift!

- V.L.

what our guests say

Best Experience I've had on Anguilla

Beautiful, ultra-modern condo. Best location on Meads Bay beach. Excellent staff. Enjoyed wonderfully appointed kitchen and dining area. Fun to have hot tub right outside of bedroom. Rainhead shower and free standing tub appreciated. This is my dream home! I saw condos while they were under construction, the finished units met my expectations. The best experience I have had on Anguilla."

- F.M.

what our guests say

Lovely Staff

Apart from the spectacular location, the really well thought-out layout and finishings, and the lovely staff, what I didn't expect was how much I really loved the bed & bedding. It was incredibly comfortable. Thank you so much for a delightful evening, night and morning. I have already been recommending to everyone that I know.

- F.C.

what our guests say

Excellent Service

Beautiful condo and beach. Excellent service from staff before and during our stay. The bubble concept works here!! Great restaurants nearby, gorgeous beach and friendly faces everywhere! [Note: since writing, Anguilla no longer requires a vacation bubble.]

- L.M.

what our guests say

We Loved it!

Kemeisha is a dream, and the fact that they connect with each primary guest via What's App is a flawless system - why doesn't everyone do this? We LOVED it and the amazing view, plus your own personal hot tub right on your deck—a perfect way to end every day with sunset views. The beach staff of Sam, D'Son, and Elvin were fantastic, so kind, happy, and helpful. We felt like we were family staying at a private villa. The location is also great as it is just minutes away from Malliouhana and The Four Seasons. Also, it is a short walk on the beach to the Straw Hat, Blanchards, and Ocean Echo. With only 15 rooms, we hope that Tranquility stays this intimate and memorable!

- R.S.

what our guests say

Unmatchable Service

Wonderful Staff, great location and new peerless accommodations played a role in attracting me from other properties and hotels but the wonderful, dedicated unmatchable service will keep me coming back. Everything about this property from it's well appointed location to its stunning views and comfortable spacious living spaces will make your stay a memorable one.

- M.B.

what our guests say

You Won't Want to Leave

Beyond pleased with the property and staff of Tranquility. From the moment you arrive with the staff welcome, and the stocked apartment with everything you could want, you won't want to leave. You will love the beach service (led by Sam, along with Elvin and D-Shon) plus the front office staff will assist with every possible need via text message - Deanna, Denise, Abiel, and Kemeisha. Our room was spotless every day thanks to Bonita. As many say, this is a hidden gem, and we can't wait to return.

- S.L.

what our guests say

Look Forward to Returning

Our complete experience was excellent! We are looking forward to returning this year, we hope. Keep up the fine hospitality!!

- J.M.R.

what our guests say

Highly Recommended

Our family of 7 had an absolute amazing time at Tranquility Beach Resort. The Staff met our every need, and communicated with us very frequently. It is not easy running a resort during a Pandemic, so I am glad that they took the time to take all precautions to ensure safety for everyone. The resort was BEAUTIFUL, and the accommodations exceeded our expectations. Sam, took great care of us on the beach, as my family stayed out there from Sun Up to Sun Day during our entire stay! We plan to return in the future! Highly Recommended!!!!

- J.R.

what our guests say

Best Vacation

Tranquility Beach and the staff are just incredible. This was the best vacation we had in a long time (even within the bubble due to COVID). We kayaked, went on a boat tour, saw starfish and sting ray! The beds were so comfortable, the spa [hot tub] perfect, and the view...top notch. We'll be back!

- E

what our guests say

All the Details Were Taken Care Of

Fabulous experience at Tranquility. Amazing Experience. The staff was attentive, the rooms are beautiful and new, gorgeous views, and you can walk to some great restaurants. Sam is the best- he made us the best drinks( better than Blanchards Beach Bar)! Kameisha made sure all the details were taken care of and we didn't have to think of anything. The people make this place over the top!!

- D.

what our guests say

Location Was Lit

Couldn't asked for a better place to stay at that time of the year. The location was lit, especially as it was my birthday and the end of the year breaking into the new year. There were fireworks in every direction. The staff was also very helpful, especially the one who deals with us on the beach and the front desk staff.

- K.M.

what our guests say

Unforgettable

We spent unforgettable days in this house. We had a one bedroom apartment facing the sea. The apartment is cared for in every luxurious and welcoming detail. The staff and the owner took care of us with a thousand attentions and kindness. Every morning they brought us croissants for breakfast and when we were on the beach cool drinks. Unforgettable vacation. We can't wait to go back.

- A.P.

what our guests say

The Best Experience

Pristine beach and good snorkeling steps away, sparkling clean condo, a wonderful and caring staff, gorgeous views and hot tub. Great restaurants within walking distance. We had the best experience here for our 15th wedding anniversary. Thank you!

- B.

what our guests say

Would Happily Return

We loved our stay at Tranquilty. The staff were friendly and helpful, The rooms were immaculate and being able to pre-order groceries ahead our of arrival was a real bonus after a long day of travel. The location is right in the middle of Meads Bay beach and minutes away from Blanchard's beach shack which had fresh and tasty food. In terms of value for money, this boutique hotel is only 18 rooms so you are not just a number and comes fully equipped with everything you need (even a washing machine and dryer). I would happily return.

- J.

what our guests say

Blew Us Away

Amazing value: on the beach and great hospitality. Blew us away with combo of swank 5 star condo, perfect private beach, and the warmest staff. And half the price of nearby 4 Seasons. A gem. Each unit has a jacuzzi and comes stocked with soda, beer, sunscreen and water. Also giant tub indoors. No restaurant but three within easy walking distance on beach.

- D.M.

what our guests say

Best Part Was the Team

Amazing experience. The location was unbeatable (on the beach… blue waters, barely anyone) but honestly the best part was the team at Tranquility….they went above and beyond and were always ready to help and accommodate any request. We had better service here then we did at the Four Seasons. Can't recommend this place enough.

- E.P.

what our guests say

Absolutely Loved It

Thank you sooooo much for an incredible stay - we absolutely loved it! The staff was especially attentive and so appreciate all that you did to make our stay more enjoyable. We will definitely be back and have already told all our friends to stay with you!

- T.F.

what our guests say

Property is Just Amazing

Your staff did a tremendous job making us feel comfortable and took care of every need we had. It was a beautiful trip and the property is just amazing. We look forward to returning soon!

- I.W.

what our guests say

Hospitality at its Finest

It was heartwarming to experience hospitality at its finest at Tranquility Beach Anguilla, in this intimate luxury property setting where staff take a genuine, personal interest in ensuring that all their guests have the most memorable stays.

- His Excellency Ambassador Emmanuel Nanthan, Commonwealth of Dominica

what our guests say

Don't Think We Will Stay Anywhere Else

Words can't express how hospitable the staff were and how relaxing our vacation was. Denise and Sam met us in the parking lot as soon as we parked and offered refreshing, cold towels and delicious rum punches (still fully iced). The rooms / living areas were spacious and clean; kitchen was well stocked with waters, sodas, beer and our free bottle of wine. We were always greeted with a smile and friendly service on the beach. This was our second time on Anguilla (first at Tranquility), and I don't think we will stay anywhere else. Could not recommend this place any more than I already have. Go stay, relax, make new friends and leave all your worries behind. You won't regret it!!

- K.

what our guests say

Exceptional from Start to Finish

The staff was exceptional from start to finish. We had a few travel hiccups due to the changing Covid restrictions, but Jaimee and Deanna really went above and beyond to smooth things out!! Kameisha, Sam and Stascia were helpful during our visit and really catered to our vacation needs. Excellent vacation due to a remarkable and hard working staff!!

- S.

what our guests say

Best Vacation Ever

Beds are very comfy and the amenities are truly world class. Beach is clean and the water is incredible. Best vacation ever!

- M.C.

what our guests say

Amazing

We truly enjoyed our time here! Your staff are amazing!

- E.A.

what our guests say

My Home Away from Home

Everything about Tranquility Beach Anguilla was amazing!! The room was beautiful and clean! The staff was attentive and friendly and very accommodating. The view is breathtaking and nothing short of spectacular. This is definitely my home away from home.

- T.H.

what our guests say

All You'll Ever Need

From communication before arrival, help with testing, grocery shopping, reservations, beach attendants, etc. service is the name of the game at Tranquility Beach. Always available by phone, text or email, Jaimée and Deanna were there to help. Beautiful property with all you'll ever need. Pamper yourself and let them take care of you as you rest on the fabulous Meads Bay!

- L.M.

what our guests say

Location Was Perfect

We had an amazing stay at Tranquility and plan on coming back. The staff truly went out of their way for us . The location was perfect, and the units were modern and beautiful. A special thanks to Sam, Kemeisha, Deanna, and the whole staff for making our trip special.

- A.K.

what our guests say

Exceptional

The beach and property are MAGNIFICENT. The architecture and overall design and construction are all exceptional. To say we loved this property and the fantastic staff is an understatement. We have found our home away from home and cannot wait to come back!

- R.S.

what our guests say

To-Die-For Views

We had a fabulous weekend here to celebrate a big birthday with friends. Our apartment had to-die-for views over Meads Bay and was very peaceful and private. Thoughtfully designed and beautifully decorated - all very high end. The unit is equipped with everything you could possibly need and the large jacuzzi on the terrace was enjoyed by all of us. We arranged for in-room massages and had a private chef prepare us the most incredible multi-course dinner. Tranquility Beach is walking distance to many great restaurants as well as a large supermarket - location couldn't be better. Staff extremely friendly and accommodating too.

- T.R.

what our guests say

Impressed

The staff are top notch, providing excellent service. I was impressed and put at ease by their eagerness to arrange everything for us from start to finish, rental car, required covid tests, transfers etc. They take all cares and stress off your mind so that you can fully relax and enjoy your stay.

- A.G.

what our guests say

Treasured Memory

With my volume of travel and the amount of time I spend on the road it is unusual that I cannot find one suggestion for improvement , however my family's stay at Tranquility was a treasured memory we will have forever made so by the wonderful team who have become family.

- M.B.

what our guests say

Hope to Be Back Very Soon

Perfect location, great value, superior servic. Tranquility's location is perfect, all of the benefits of staying at one of the 5 star resorts on Meads without the price tag. They might not have a restaurant but the savings will make it easier to enjoy all the restaurants on Meads that you are sandwiched right in the middle of. Do not worry though, Sam makes incredible cocktails that make it easy to waste hours on the beach. We hope to be back very soon!

- L.E.

what our guests say

Recommend a 1000 Times Over

Tranquility Beach allowed me to do what I hardly do on vacation...relax. From the time you step on the property you are welcomed by the staff and a rum punch. The property and the room [condo] looked even better than the pictures online. The view and accessability to the beach were better than we ever expected. I am also not a hot tub person but the concept of your own hot tub is a one of a kind experience. Each morning we awoke to fresh baked pastries that were beyond delicious. I loved and appreciated every moment we spent here. I would recommend it a thousand times over.

- W.S.

what our guests say

Wonderful

Everything was wonderful! Looking forward to returning in June!

-

what our guests say

Best Vacation & Best Location

This was the best vacation and the best location. Everything about our stay with magical. We are already booking our trip back. Everybody on staff was friendlier than ever and more than accommodating. What an incredible experience

- K.T.

what our guests say

Lovely Stay

This was my first staycation in Anguilla. The staff were so friendly and very helpful. The group chat that was created in case I needed something was an excellent idea. The amenities were great. I would definitely book another staycation at this property. I had a lovely stay.

- O.V.

what our guests say

Couldn't Recommend it More!

4 days in paradise! We had a wonderful time at Tranquility Beach Anguilla. From arranging our arrival to accommodating our needs during our stay, everything was perfect! Optimally positioned to get around the island, or just walk on the beach to some very good restaurants. We couldn't recommend it more!

- J.F.

what our guests say

Wonderful Experience

It was a wonderful experience with family.....very relaxing, beautiful property and the suites are amazing.

- M.L.

what our guests say

Amazing Location

The location is amazing, with local restaurants and top resorts nearby, but without paying those resort prices! There were so many restaurants within a short walk of the resort which offered amazing food, such as Blanchards and Celeste at the Malliouhana! There were food options for everyone and as a vegetarian/vegan there were surprisingly a wide range of options!

- G.M.

what our guests say

We Will Definitely Return

Peaceful, uncrowded with the warmest and clearest water. Also very convenient to excellent restaurants. My husband keeps kosher and they were able to buy us groceries for our stay. This is the best beach In the Caribbean and I will never go to another island. We will definitely return to Tranquility.

- S.

what our guests say

Will Definitely be Back

The all around tranquility of the resort speaks to the name. The Hosts and workers are amazing. We will definitely be back.

- N.C.

what our guests say

Extra Special

Amazing vacation in an amazing place. While I love Anguilla and all its natural beauty, the stay at Tranquility beach made our trip extra special. The place is beautiful but the staff at TB is what makes it special. From Denise, Abiel, Sam and the rest of the staff. They are really great and look after every detail to make your stay awesome. We look forward to coming back soon. And by the way Sam is the man! He makes the best drinks in the island.

- A.F.

what our guests say

Exemplary

It was a wonderful experience! The staff was exemplary, the accomodations were perfect, the location was unmatched. I absolutely loved it!

- J.W.

what our guests say

Most Amazing Vacation Ever

The most amazing vacation we've ever had. Beautiful beach, modern condo with incredible views, great local food. We hope to come back again - and from a traveler who thrives on the novelty of a new scene, that is saying A LOT.

- M.P.G.

what our guests say

Great Experience

Best beach, great rooms, great experience -- we had 3BR not on beachfront, we were wondering what that would be like, and it was amazing. Been to island 20+ times and would certainly recommend this place to anyone.

- N.G.

what our guests say

Top-Notch Accommodations

The name sums up your stay...tranquility!!! If you want a relaxing stay with top-notch accommodations, excellent service, the best beach in Anguilla and access to the top restaurants, then stay here. Sam's rum punch is a must.

- S.

what our guests say

Loved Everything

Loved everything about our experiences from location, amenities and the staff was very attentive, helpful and friendly.

- T.W.

what our guests say

Absolutely Amazing

Tranquility Beach is absolutely amazing, the staff go above and beyond to exceed your expectations at every moment. The state of the art beachfront condominiums were amazing and offered panoramic views of the ocean and Meads Bay. The daily rum punches served on the beach were fantastic! But even more surprising the staff has your own personalized cooler ready everyday under your dedicated umbrella and beach chairs with all your favorite drinks!

- J.R.

what our guests say

Cannot Wait to Visit Again

AMAZING STAY AND STAFF!! Beautiful property. We have not stopped talking about our trip and cannot stop telling her friends how we recommend your location over others. Thank you for making our stay so incredibly amazing and special. We cannot wait to visit again!!

- C.S.

what our guests say

No Better Location or Service on Island

Everyone my wife and I met, from the staff to the other guests staying at Tranquility, were nothing short of FANTASTIC. There is no better location and or service to be found on the Island"

- G.S.

what our guests say

Can't Wait to Return

We loved our stay at Tranquility -- location, service, and property. Can't wait to return!

- E.M.C.

what our guests say

Immaculate

This property is immaculate. The suites are outfitted with top of the line products throughout. We especially enjoyed relaxing on our balcony in the private jacuzzi. The location is ideal, on one of the nicest beaches of Anguilla, but not too crammed next to other restaurants or hotels. The staff were very friendly and accommodated all our requests with a smile. We hope to stay again soon and will recommend this property to anyone who wants a more home-like environment than a hotel!

- C.S.

what our guests say

Returning in May

Looking forward to our next visit in May!

- E.M.

what our guests say

Life Changing Trip

We went for a week in August and stayed in the penthouse. The modern touches and well-known name appliances gave the place a luxurious feel without making it feel cold. The rooms were furnished very well, exactly how I want to decorate my house! The service was great and all of the workers were very friendly and made us feel instantly welcomed! The beach was the best on the island, with the soft sand and and crystal clear water. This place is perfect for smaller families and couples! This was a life changing trip and were considering going again next summer!

- G.M.

what our guests say

A Dream Come True

A perfect vacation! Tranquility exceeded even our highest expectations. Every single member of the hotel staff was so friendly and lovely to interact with. The suite was so clean, upscale and modern. I loved waking up in the am and relaxing on a lounge chair watching the ocean. And at night relaxing in the jacuzzi listening to the waves. The bedding and towels were fantastic. The lounge chairs are super comfortable and most importantly, the beach is a dream come true.

- S.

what our guests say

Perfect

Everything was perfect.

- G.M.

what our guests say

Exquisite

The entire stay was splendid, I had a warm personalized welcome, exceptionally polite staff, ambience of setting was exquisite, nearby had much eatery to choose from. I booked this place as it was mid center to major hotels and the beach access. I got to enjoy all the offerings of nearby locations without paying a huge cost. The beach was easy accessible from the property.

- B.S.

what our guests say

Enjoyed Everything

We enjoyed everything about our stay! Really appreciated having WhatsApp available for questions and quick answers.

- K.R.

what our guests say

Go Out of Their Way

Every person on staff is kind and go out of their way to make your time there full enjoyment. The beach staff and bellmen made your day each day with short chats and making sure you had everything you needed. The units are sparkling clean and over-the-top furnished with high end amenities.The view from the beach front units is spectacular. The spa [hot tub] outside the room is a perfect addition to your daily activities and provides an extra moment for relaxation after a day in the sun at the beach. The sand is like powder and the beach is pristine with plenty of umbrella's, beach chairs, and water and sand toys to enjoy.

- T.W.

what our guests say

Staff Was Incredible

The trip was amazing! Loved the condo, great to cook in, work and relax. The staff was incredible - they really made the trip special. Would absolutely recommend to friends and family and hope to return at some time in the future.

- M.R.

what our guests say

Best Vacation of My Lifetime

This was without a doubt the BEST vacation of my lifetime!! Tranquility Beach is wonderful, from the beautiful rooms, to the incredible staff, and the best location! We could not have been happier with our decision to book here and will again! Thank you Kameshia for all your help prior to our arrival and throughout our stay.. you made everything so easy for us! Thank you Sam for your incredible service and drinks! Thank you to all of the staff, I can't remember all of your names however everyone made our trip so great! All in all Anguilla is a special place and Tranquility is even more special. If you are looking for an amazing place to stay in paradise, Tranquilty Beach in Anguilla is IT!

- A.E.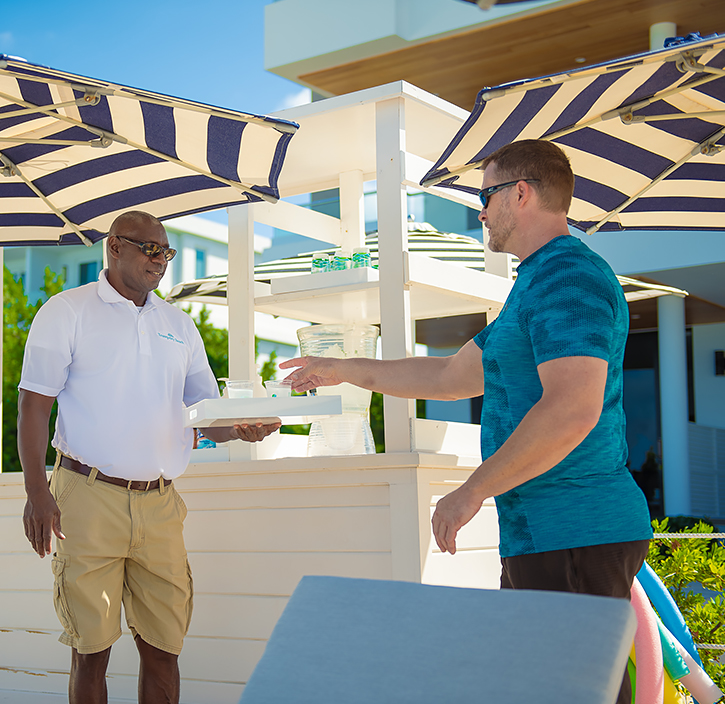 Five Things That Set Us Apart
Carefree with a Concierge
Whether you're renting for vacation or enjoying exclusive ownership at Tranquility Beach Anguilla, your home away from home comes with concierge service.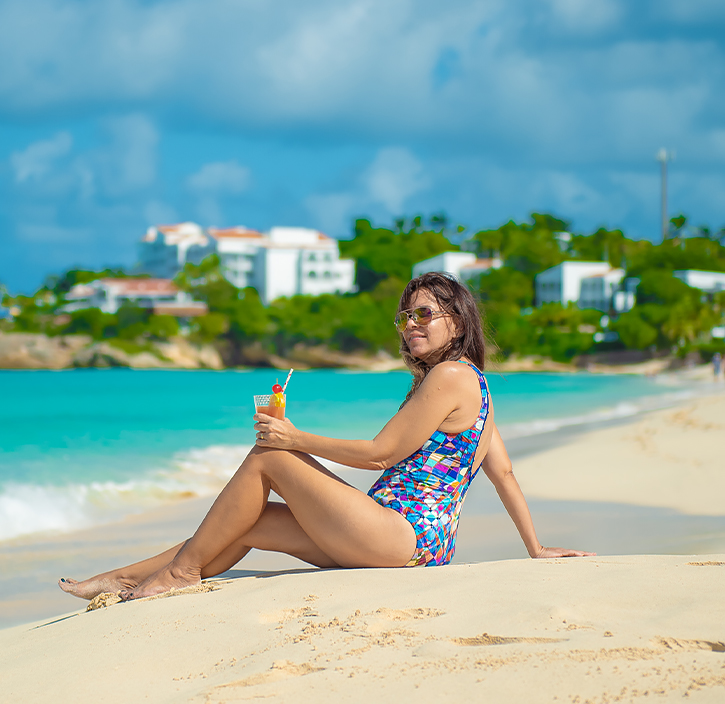 Five Things That Set Us Apart
Right on the Beach
Our location provides the backdrop for an unrivaled Caribbean getaway. Experience oceanfront living at the crown jewel of Anguilla: Meads Bay Beach.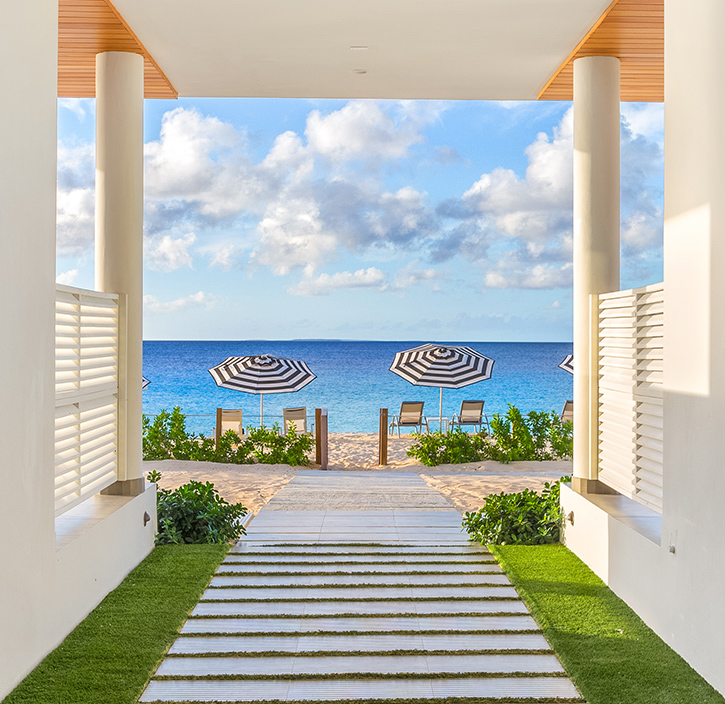 Five Things That Set Us Apart
Close to Everything
Stroll down the sand to resorts, spas and sea-to-table restaurants. Find your favorite spot or sample them all.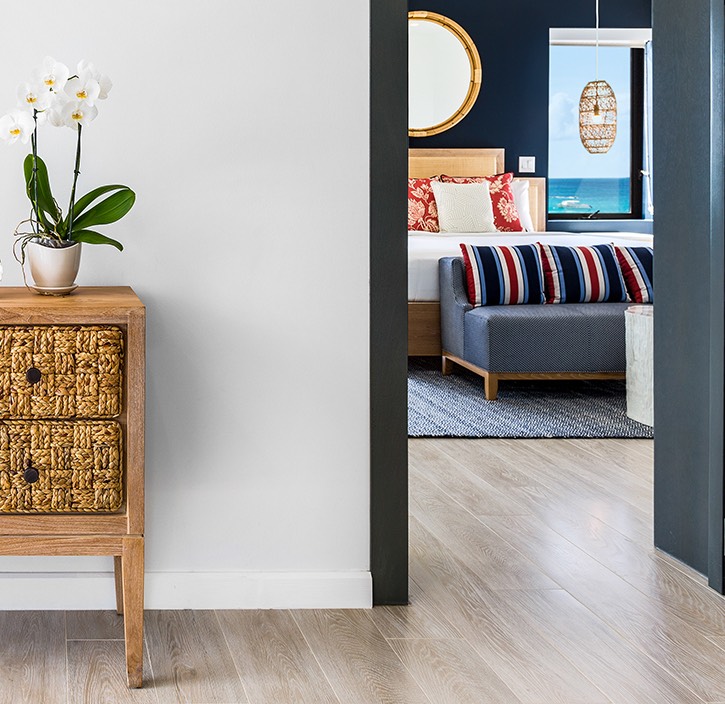 Five Things That Set Us Apart
Comforts of Home
Every condo has a kitchen, laundry and WIFI. Stay a few days or linger longer. Social distance effortlessly in your private outdoor hot tub.
Five Things That Set Us Apart
Opt to Own
Once you've experienced a tropical vacation at Tranquility Beach, consider permanently claiming your spot on Meads Bay Beach. Purchase your luxury condo at Anguilla's newest resort.
accommodations
Sweet Dreams by the Soothing Sea
Relax and unwind in a beachy-chic condominium with one, two or three bedrooms. Modern and contemporary, these stylish spaces put you steps from the cookie dough sand of Meads Bay Beach.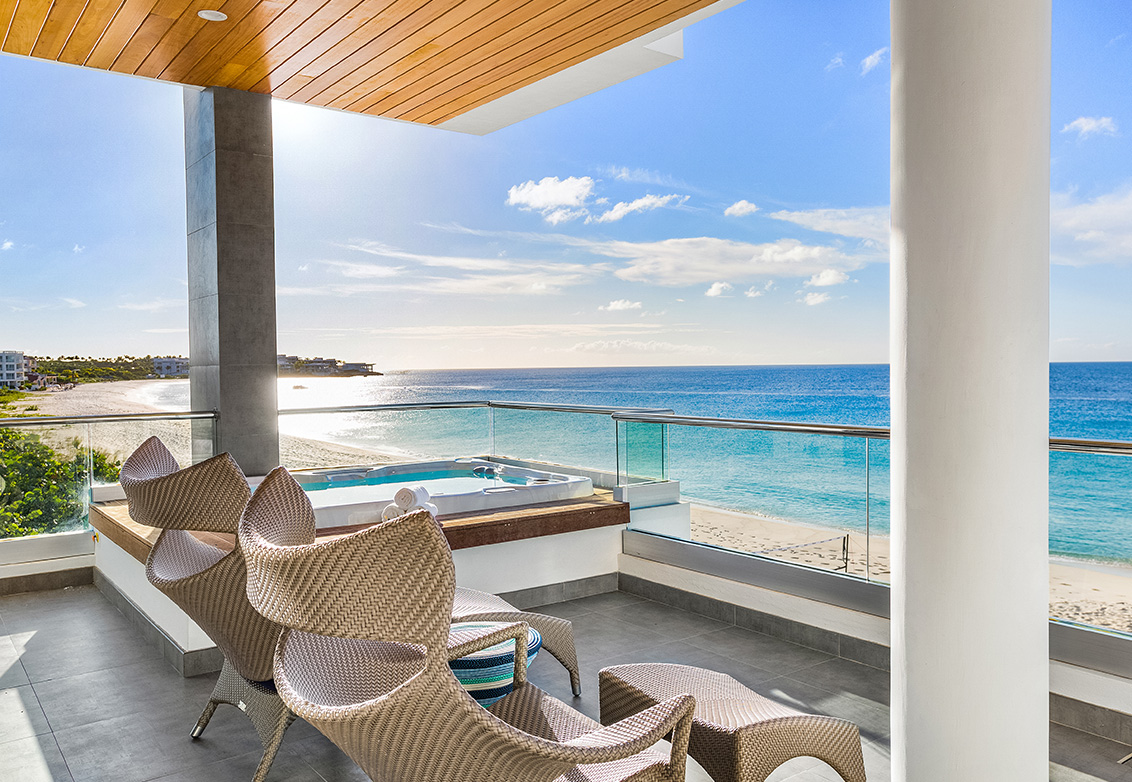 Featured Promotion
Seaside Luxury
Relaxing is different here. Savor summer in comfort and style on the perfect beach while our rave-worthy staff looks after you. Book now for irresistible rates.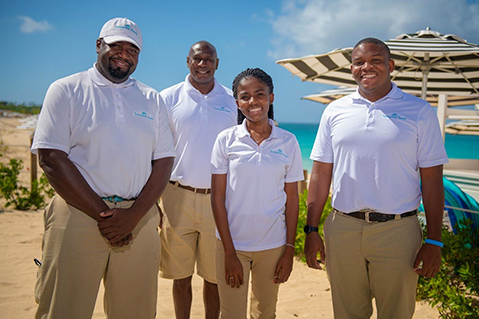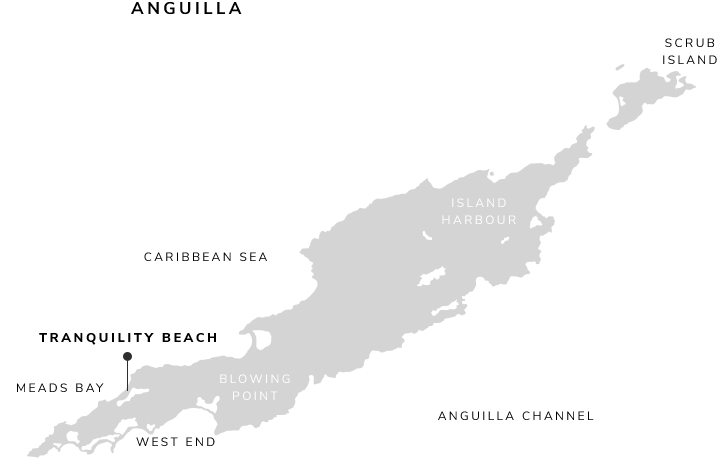 Our Location
Where You Want to Be
Coral, limestone, and the Caribbean Sea. Discover fabulous restaurants, beautiful boating, and fascinating history on Anguilla.
Explore